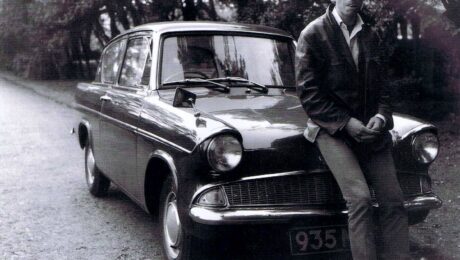 George Harrison had a phenomenal selection of cars
The former Beatles star loved cars, yeah, yeah, yeah. On what would have been George Harrison's 77th birthday, we pick nine of his best drives…
Money can't buy you love, but it can buy you cars. Which, all things considered, is probably a better investment. George Harrison certainly thought so. To call him a car enthusiast would be like referring to him as a successful musician – something of an understatement. He adored cars and if that didn't necessarily sit comfortably with his desire to eschew the excesses of the material world, well, so be it.
His fascination with all things vehicular led him to spend the best part of a year following the Formula One World Championship around the world. It's possible he took a little too much inspiration from his Grand Prix idols, because he had his licence taken away twice for reckless driving, the second time after an accident that nearly killed his wife, Pattie.
Nobody seems to know how many cars Harrison owned over the years, such was the frenzied abandon with which he bought and sold them. Rather irritatingly, there is no record of him ever owning a Beetle and very little evidence to suggest that the first draft of his famous solo hit was entitled "My Sweet Ford". His tastes were a little, well, less pedestrian. By way of illustration, here is a rundown of just a fraction of the cars Harrison owned…
Ford Anglia 105E
© Beaulieu Enterprises Ltd

For a modest car, the Ford Anglia has enjoyed a stellar career in the showbiz spotlight, starring in everything from Z Cars to Heartbeat, appearing as Roland Rat's Ratmobile and the Weasleys' flying car. But its biggest claim to fame may be that it was the first ever car owned by George Harrison. Yes, before all the Jags, the Porsches and the Mercs, there was a little second-hand Ford Anglia. It's difficult to find out more information about his car, because: a) it was at the outset of his career (hence the fact he was driving an Anglia!) and b) any internet search for "George Harrison Ford" produces lots of photos of Han Solo.
Jaguar E-Type/XKE
© Heritage Image Partnership Ltd / Alamy Stock Photo

The story goes that Brian Epstein bought George Harrison an E-Type for his 21st birthday. Certainly this car was first registered on 28 February 1964, three-days after Harrison turned 21. The customised car even featured a dash-mounted record-player. A missive from Harrison to a young Beatles fan, Susan Houghton, was published by Letters Of Note in 2010, including a tongue-in-cheek seven-point plan for how to wash the E-Type. Point seven is to take all the "dirty, muddy, greasy water" round to a nearby address and dump it over the Ford Classic in the street outside. The address was Paul McCartney's.
1964 Aston Martin DB5
© National Motor Museum/Shutterstock

In 1965, Harrison bought his first ever extravagant car – a white DB5. Paul McCartney, also something of a petrol head (though nothing in comparison to his band mate) bought a DB6 that same year. In December 2011, Harrison's DB5 was finally sold at auction, to an anonymous Beatles collector, for £350,000.
Porsche 928 S Coupe
© Peter Byrne

The late 1970s saw Harrison enter his Porsche phase. He bought two 911 Turbos and a 924 Carrera GT. In 1980 he bought a black 928 S Coupe, before selling it three years later. In 2003, Leeds-based car enthusiast Raj Sedha bought it for spare parts and would have stripped it down had his wife not taken a look at the log book, revealing the car's celebrity heritage.
Mercedes 300 SEL
© Tracksimages.com / Alamy Stock Photo

With apologies to Harrison's second wife, Olivia, to whom he was married for 23 years until his death, perhaps the greatest love affair he had was with Mercedes cars. In 1970 he bought two Mercs, a red 250 CE Pillarless Coupe and a white 6.3 litre 300 SEL. He was driving the latter in February 1972, on his way to a party being given by Ricky Nelson, when he crashed into a lamppost at speed. He escaped with a few scratches, but his first wife, Pattie, suffered concussion and broken ribs and was hospitalised for two weeks.
© Adrian Dennis/EPA/Shutterstock

At more than six metres long, this beast of a car boasted a drinks cabinet and a Phillips Mignon EP record player in the back, as well as the all-important privacy screen. Originally owned by John Lennon, he sold it to Harrison in 1971 when he and Yoko decided to up sticks and move to New York. The car was bought by Mary Wilson of The Supremes in 1976 and used on the group's US tour in 1979.
Mercedes 500 SEL AMG
© Peter Byrne

Of all of the cars Harrison owned, this was probably the one he drove the most. He bought it in 1984 and promptly spent a whopping £85,000 customising it, including lowering the suspension and upgrading the body kit. He must have liked the results, because he hung on to the car for 15 years and clocked up 30,000 miles in it. That's a fair few long and winding roads.
McLaren F1
© Darryn Lyons/Daily Mail/Shutterstock
Definitely the priciest on the list, which is hardly a surprise, seeing as only 106 were ever built, custom-made for each buyer. Designer Gordon Murray was later to report that Harrison was so excited about receiving his car, in 1994, that he would phone up and good-naturedly pester the makers on a regular basis. The end product, with a dark purple pearl exterior and black satin wheels, is still owned by Harrison's estate, in spite of Eric Clapton's repeated attempts to buy it. Other famous F1 owners include Rowan Atkinson, the Sultan of Brunei, Elon Musk and Jay Leno.
Austin Mini Cooper S
© Heritage Images

The most iconic of the lot. In 1965, Brian Epstein teamed up with Terry Doran (supposedly "the man from the motor trade" mentioned in "She's Leaving Home") to buy Minis at cost price to give to all four Beatles. Harrison's Mini was customised by coach-builder Harold Radford with a full-length sunroof, horizontally-mounted Volkswagen tail lights and hood-mounted rally fog lamps. In 1967, he had it decorated with psychedelic images inspired by the book Tantra Art. Later that year, the car came to prominence when it featured in the film Magical Mystery Tour, before being given to Eric Clapton. Harrison regretted parting with the car and Clapton returned it to him years later.
Share on facebook
Facebook
Share on twitter
Twitter
Share on email
Email
Share on whatsapp
WhatsApp